RIDE THE MINES
Mark your calendars for September 9th for Northern Ontario's premiere mountain bike event. The Shuniah Forty Miner Presented by Tbaytel is a two-day celebration of Thunder Bay's mountain biking trails located at Kinsmen Park in the beautiful Trowbridge Forest. The feature event is an XC Marathon mountain bike race. The course will feature a 12 km loop that will be repeated several times depending on which race you register for. Categories include a 12km, 24km, 48km, and a 5km mini-miner race for the youth.
COURSE MAPS
The Forty Miner course assures you'll be riding all of the best trails in all of the best directions. The course takes advantage of all the amazing natural terrain and features that Trowbridge Forest has to offer.
There are four different course lengths to choose from.
FRIDAY EVENING - THE ENGINE INSIDE
The Engine Inside tells the stories of six everyday people from all over the globe, who reveal the unique power of the bicycle to change lives and build a better world.
Through their stories, we uncover the overlooked potential of this 200-year-old machine, learning that in the face of our seemingly insurmountable global challenges, hope lies in the simple act of riding our bikes.
Covering many global issues—from climate change and indigenous trauma to socio-economic inequality and the transportation clusterfuck—The Engine Inside sparks agency in everyone it touches.
Tickets are available for free/donation.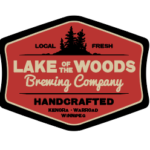 LAKE OF THE WOODS AFTER PARTY
We are excited to have Lake of the Woods at our fundraising after party this year!
Lake of the Woods Brewing Company has brewery locations Ontario, Manitoba and Minnesota. All three regions touch the shores of Lake of the Woods. This is where we work and play…. it's our backyard… and we are proud to be able to bring beer to everyone that has a connection to the place we call home.